Product Description
The Scrubba wash bag is the world's smallest washing machine and is perfect for apartment living, travel and camping.
Featuring a flexible inner washboard, the pocket-sized Scrubba wash bag allows a machine quality wash anywhere in just minutes. It is hygienic, self-contained, electricity-free and easy to use, even in the smallest apartment or hotel room. Whether you are using it at home to avoid Laundromats or planning your next travel or camping adventure, the patented Scrubba wash bag is the best way to wash clothes anywhere.

Over 275,000 travellers, campers, home-users, backpackers, hikers and holiday makers have experienced firsthand the quality wash our internal flexible washboard delivers.

Wash up to 2 T-shirts, 2 pairs of underwear and 2 pairs of socks in each load.
With a Scrubba Wash Bag you can:
Wash clothes wherever and whenever you want.
Avoid using public Laundromats.
Effectively clean your clothes with the help of hundreds of internal Scrubba™ 'nobules'
Pack fewer clothes and travel with a lighter backpack, bag or suitcase
Achieve a machine quality wash in just minutes with 6 easy steps.
Alleviate the need to ineffectively wash clothes in dirty hotel sinks
Avoid excess airline baggage fees by packing fewer clothes.
Save money and water when doing laundry while travelling.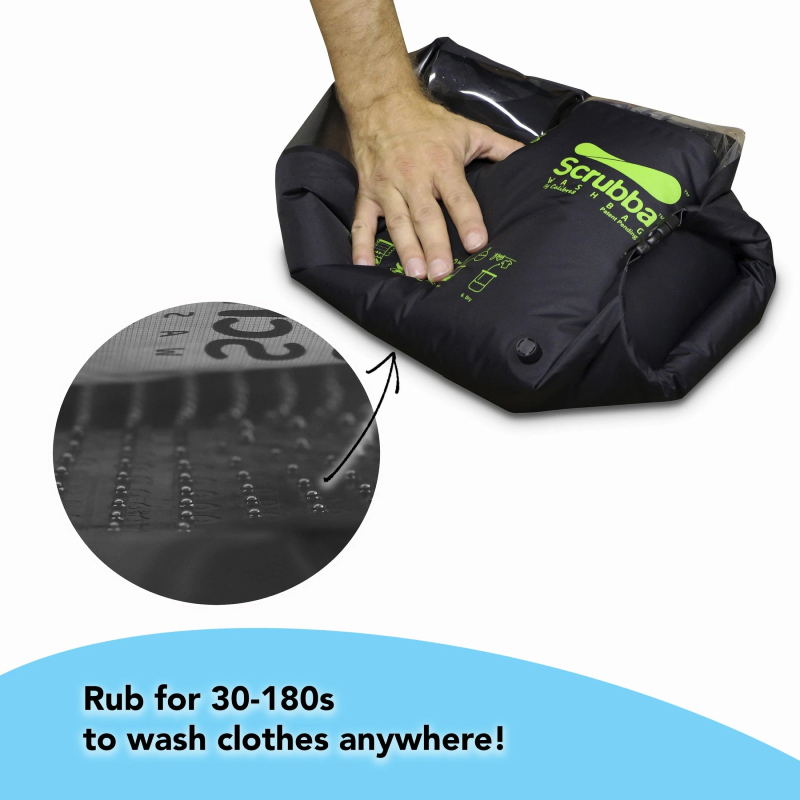 Features
Lightest washing machine in the world weighing around 150g (5.3 oz.)
Pocket-size and small enough to take anywhere
User instructions printed on the outside of the bag
Transparent window to monitor washing and water levels
Grip backing on the outside to prevent sliding on surfaces while washing
Air release valve
Doubles as a dry-bag.

Specifications
Weight:
Weighs around 150g

Dimensions:
54cm x 32cm (when laid flat)
16cm x 6cm x 6cm (when rolled for storage)
How It Works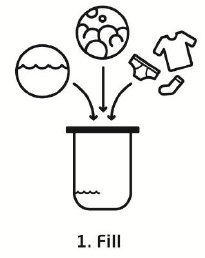 Add cleaning liquid, water and clothes to the level markings
TIPS:
-Cleaning powder can be used if properly dissolved
-Water volume is ~2-4 litres (0.5-1gal)
-Up to 2 T-shirts, socks and underwear can be washed in one load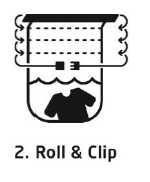 Press air from the bag, roll the end 4-5 times and clip
TIPS:
-Roll tightly towards the front of the bag to minimise water leakage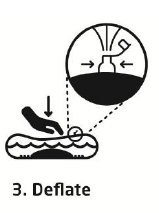 Open valve cap and squeeze valve to remove excess air
TIPS:
-Adjust finger positioning when squeezing valve to get the best airflow

Rub clothes against the internal washboard
TIPS:
-30 sec provides a quick wash to freshen up clothes
-3 min provides a machine quality wash that is twice as effective as handwashing
-Stubborn stains may need pre-treating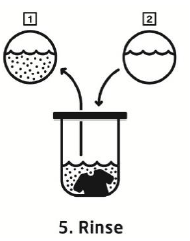 Tip out dirty water and rinse with clean water
TIPS:
-Rinsing can be done in a shower, sink or in the bag
-If rinsing in the bag, close the bag without deflating and then shake
-Discard water at least 50m from water sources to prevent pollution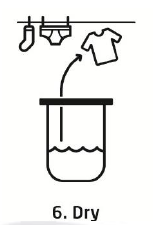 Wring out the clothes and hang to dry
TIPS:
-Drying can be accelerated by par drying clothes in a microfiber travel towel
Product Video
Freebies & Voucher
Free Credits to shop for next purchase: Free credits worth 3% of your total purchase amounts for purchase with RM100 and above in a single order.
Subscribe Now to our newsletter and get your voucher code for 3% discounts off your total order.
Warranty
All products come with 1 year limited warranty except those specified below :

Most of Ledlenser products come with worldwide warranty period of 2 years from the date of purchase and 7 years if you register your product online through the warranty card that comes in the packaging.
Vibram and Skinners shoes come with 3 months warranty.
Summer school bags, Sipesen backpacks, Nike bags, and Polo House luggage has no warranty.

Warranty are against manufacturing defects only, it does not include wears and tears, and or damages caused by misuse.

For more information on warranty, please view

our warranty policy

.
Return & Exchange
All items can be returned or exchanged within 5 days upon receipt of your goods if they have not been worn, altered or washed. All items must be returned in their original condition with all tags attached, and must be returned in their original packaging. Please click our return and exchange policy for more details.
Shipping
Free Delivery within West Malaysia for any order with RM80 and above.
The deliveries to Sabah, Sarawak, and Labuan are serviced by POS Malaysia. Delivery lead time will take up 1 to 3 weeks time.
We currently provide deliveries to Malaysia and Singapore Only.
For any other international delivery, please email us at sales@gotravel-outdoor.com for arrangement.
Please click on shipping and delivery for more information.