Product Description
This mosquito and tick repellent Moisturizing Dry Oil spray offers you a sensorial experience!
Not only does it provide effective protection for 6h against tiger & culex mosquitoes, as well as ticks, the dry oil spray's formula brings moisturizing and comfort to the skin.
Recent addition to the Derm range this moisturising dry oil was developed with those in mind who don't particularly enjoy buying and applying mosquito protection products. This innovative formula features the brand's HydrActiv-Complex™ as well as vitamin E, jojoba oil, and sweet almond extract to moisturise and nourish the skin as well as shea butter and liquorice extracts to soothe and repair. A pleasure to apply this non- greasy oil with micronebulisation spray technology, allowing even application on the skin, it has a captivating monoi scent and provides 6 hours of protection.
With its captivating monoi scent and providing 6 hours of protection, the non-greasy oil is delivered using micro nebulisation spray technology, allowing even application on the skin.
Features
Complete protection for up to 6 hours against mosquitoes and ticks
Botanical repellent actives' ingredient, alcohol-free, surfactant-free, DEET free
Water Resistant formula
Perfect for Infested Areas
Not suitable for children under 6 months old.
Soft milky texture
Micro-nebulization for the right amount of a gentle and non-greasy protection
Formula Made in France
Ingredients
Our patented HydrActiv-Complex™ technology: boosts the protective effect of the anti-mosquito and anti-tick formula thanks to the synergy between its repellent active ingredient and moisturizing coconut oil extracts.
PDM-Citrepel®: our active ingredient is a derivative of Citronella java essential oil. It is the only botanical repellent with similar protection levels as synthetics actives.
Vitamin E, coconut oil, jojoba oil, sweet almond oil: hydrating and alleviating properties
Shea butter and licorice extracts: soothing and repairing properties
BIOCIDAL PRODUCT PT 19 REPELLENT PMD-CITREPEL
Cymbopogon winterianus oil, fractionated, hydrated, cyclized
(n° CAS: 2304455-69-2): 3,5%
Directions for Use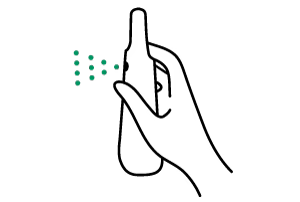 Hold spray bottle 6-8 inches (15-30cm) away from exposed skin. Mist in a slow sweeping motion. No need to shake, wipe or let it set – it works immediately.
For the face, spray on hands and then apply on the forehead and cheeks.
It is recommended to apply sunscreen first before applying PARA'KITO® Spray. Reapply every 6 hours or after vigorous activity, toweling or more frequently to improve your protection level.
For additional mosquito protection, Parakito Insect Repellent Spray may be combined with Parakito portable diffusion devices such as our refillable wristbands and clips.
Freebies & Voucher
Free Credits to shop for next purchase: Free credits worth 3% of your total purchase amounts for purchase with RM100 and above in a single order.
Subscribe Now to our newsletter and get your voucher code for 3% discounts off your total order.
Warranty
All products come with 1 year limited warranty except those specified below :

Most of Ledlenser products come with worldwide warranty period of 2 years from the date of purchase and 7 years if you register your product online through the warranty card that comes in the packaging.
Vibram and Skinners shoes come with 3 months warranty.
Summer school bags, Sipesen backpacks, Nike bags, and Polo House luggage has no warranty.

Warranty are against manufacturing defects only, it does not include wears and tears, and or damages caused by misuse.

For more information on warranty, please view

our warranty policy

.
Return & Exchange
All items can be returned or exchanged within 5 days upon receipt of your goods if they have not been worn, altered or washed. All items must be returned in their original condition with all tags attached, and must be returned in their original packaging. Please click our return and exchange policy for more details.
Shipping
Free Delivery within West Malaysia for any order with RM80 and above.
The deliveries to Sabah, Sarawak, and Labuan are serviced by POS Malaysia. Delivery lead time will take up 1 to 3 weeks time.
We currently provide deliveries to Malaysia and Singapore Only.
For any other international delivery, please email us at sales@gotravel-outdoor.com for arrangement.
Please click on shipping and delivery for more information.