Product Description
Your Personal Cameraman
Qoocam is a 4K resolution 360 and stereoscopic video camera. It supports all-around capturing, depth sensing technology and cinematic image stabilization. You can position this 4K 360 degrees camera at any angle and record 4K high resolution 360 VR video and photo. And you don't need any assistance from a cameraman during photo shooting and 360 VR video recording process.
Innovative 2-in-1 Action Camera
QooCam is a unique 3D stereo camera that has 3 wide angle fisheye lenses and Sony CMOS image sensor. It uses two lenses in front and back to be a 2D 360 camera 4K, and a 180-degree 3D stereo camera when using the lenses side by side. The image sensor helps to capture HD stereoscopic VR pictures and movies.
QooCam, the 3D video camera, supports the cutting-edged depth map, high image quality, and virtual reality video quality capturing. Also, cinematic image stabilization, slow motion and an intuitive post production tool for iOS and Android devices are available. These empower you to shoot 4K footage with stereo camera 3D like a pro.
Relive Your Discovery
Relive your special moments with applications of QooCam 4K camera. The lenses can not only capture 4K video with 2D 360 degree but also the stereoscopic 3D 180-degree field of view.
With just a simple switch, the 3D camera mode will let you explore the extra dimension of life with stereo images of the 60fps frame rate. And those higher quality stereo images make the memories pop out of the screen.
Compared with the monoscopic 360 video, QooCam stereoscopic 360 degree camera production requires more careful planning and execution.
And you can use QooCam App editing software to make post production for your creation. Then uploading your 360 videos or 180 degree photos on Facebook or Youtube platforms to share with others.
3D photo
QooCam is the first VR camera allowing you to create and share a fun, lifelike high quality 3D photo that appears more immersive in your news feed.
While taking 3D photos, a perfect distance is important. Usually, the distance between stereo cameras and the subject should be kept to 2-3 feet. This stereoscopic 3D 360 camera is based on the latest depth sensing technology to estimate the depth of field of a scene.
This type of stereo camera does not have a mirrorless camera zoom lens, but the stereoscopic camera can mimic the bokeh effect from the 3D stereo VR content. And it allows you to shoot first and focus later.
Stereoscopic photography mainly applies the principle of human eye binocular parallax. From the stereoscopic 3D principle, dual-lens digital cameras can take stereo images. In order to make the stereo vision wider and more realistic, Kandao QooCam 3D video camera uses wide angle lenses side by side with a distance which is similar to that of human eye. Three lenses are used to widen the angle of viewing.
In the mid-20th century, the first stereo realist format camera with 35mm film was manufactured, which started the era of popular stereo photography. And the pair of stereo images captured by the 3D camera is always viewed by specialized 3D glasses, view-master player or stereo slide. Though QooCam 3D stereo camera doesn't have water resistance for now, its amazing design has conquered many 360 photography enthusiasts. Some use it to make stereoscopic VR content for their real estate to make an all-round presentation.
Create & Share On the Go
Kandao QooCam, the best action camera has intelligent control, editing software, and supports virtual reality stereo photography. The smartphone app helps you turn high quality 2D 360 video into regular-sized video footage. Furthermore, you can quickly create a stunning travel vlog with 4K UHD footage and share them straight to social media with just a few steps.
Effortless Smooth
QooCam, the new-gen stereoscopic video camera shoots 4K HD video. It is built for applications of filming on the road of your journey. Kandao uses built-in IMU sensor and real-time image shake-free technology. Thus, the action camera helps you to achieve cinematic shots without extra gimbal or stabilizer, when doing extreme sports or shooting fast moving objects.
A Bigger World in a Snap
With one press of power & shutter button, QooCam 360-degree camera records 4K 360 degree moment seamlessly. Long press the power button to turn on QooCam. Then short press the shutter button to take pictures and long press it to start recording movies.
If connecting our mobile app, since there is no LCD display on this camera 360, the customer can preview the creation through the mobile.With built-in IMU sensors integrated for image stabilization software in this best 4K camera, you can shoot VR video of fast moving scenes. As a result, you can use its ultra-wide field of view to capture when you stumble upon the breathtaking landscape or exciting friends' gathering.
Invisible Selfie Stick
Attaching the QooCam with selfie stick straightly, it will magically become invisible in final 360 videos. By doing so, you can get a third-person view that always follows you around, as if there is a cameraman or drone to film your activities.
Google Street View Ready
Enabling GPS, you can publish 360 photos to the Street View mobile app directly with QooCam (iOS and Android). Shoot, and upload to Street View, showing scenery, exploring the community, or boosting business in simple steps.
Time in Motion
By using QooCam 3D and 360 camera 4K, you can be the master of time and motion. It supports time lapse, high dynamic range, 4K 60fps high speed to capture moving objects and 120 high frame rate slow motion shots. This 4K stereoscopic 360 camera turns simple things into dramatic 4K footage and cinematic moments.
Features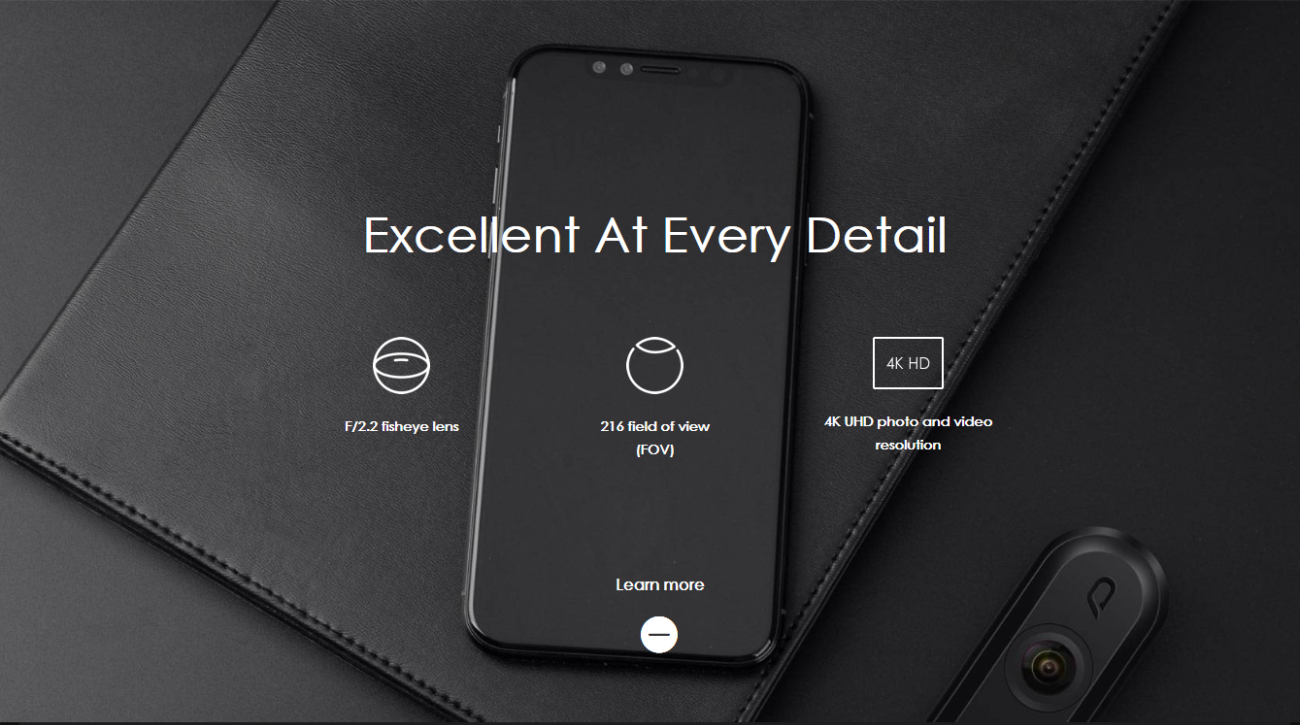 High Quality Lenses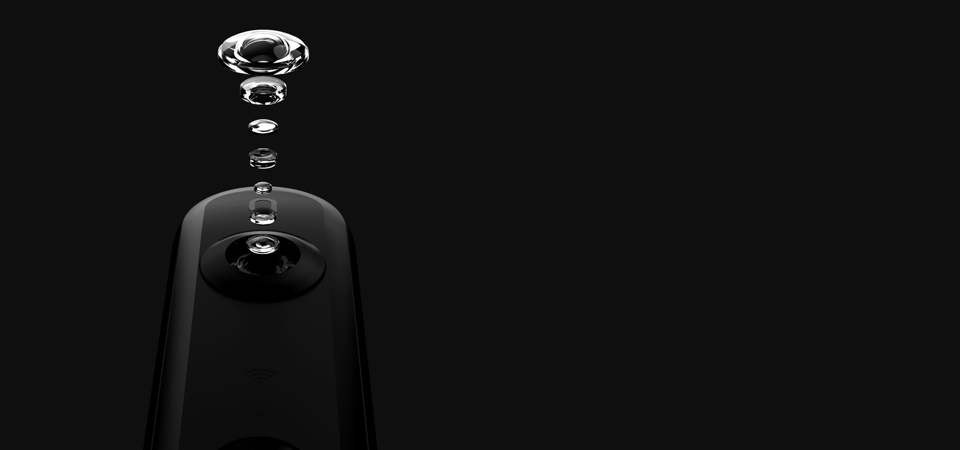 QooCam digital camera has 3 wide angle fisheye lenses with a 216° field of view and an f/2.2 aperture, shooting 4K video with the 30fps frame rate. You can create a full HD virtual reality experience with VR headsets, such as oculus rift and Google cardboard. It is a 4K resolution(the number of pixels in a photo, QooCam 4K has 4320*2160 pixels. ) stereoscopic camera that equipped with Sony's CMOS image sensor, improving the camera definition to full HD and make it better than ever.
256G Max Expandable Storage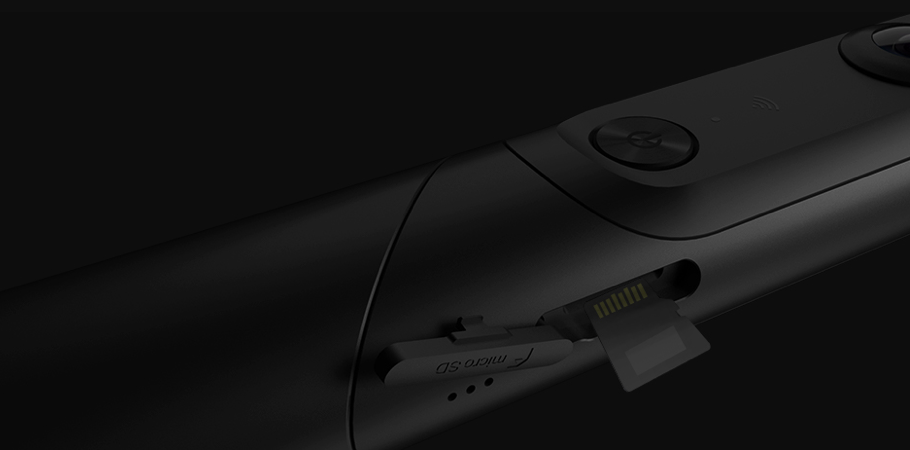 QooCam action camera uses external SD cards to have the maximum capacity of storage to record VR content up to 256G. Furthermore, QooCam, the best action camera, supports micro SD memory cards in UHS-I and exFAT(FAT64) format. Kandao recommends U3 memory card (Toshiba, Samsung, SanDisk, etc).
Durable and Elegant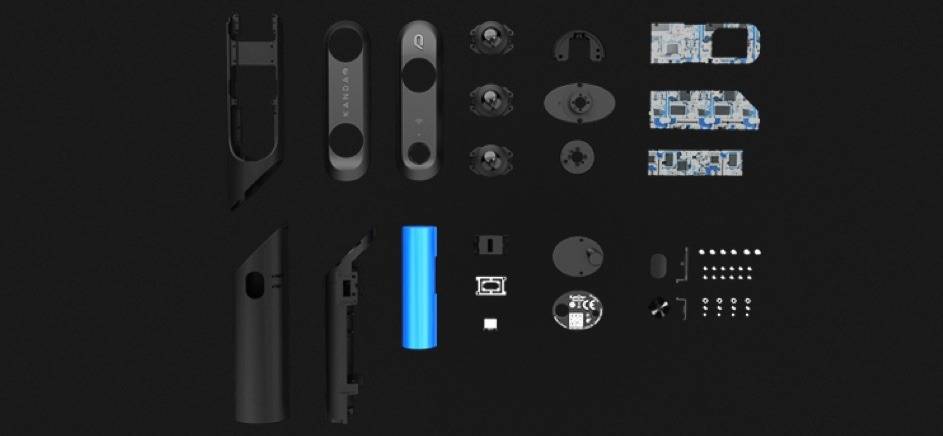 Built with a full aviation-grade anodized aluminum alloy body and CNC machined, the stereo camera 4K is durable and efficient to dissipation heat after long-hours of real world shooting.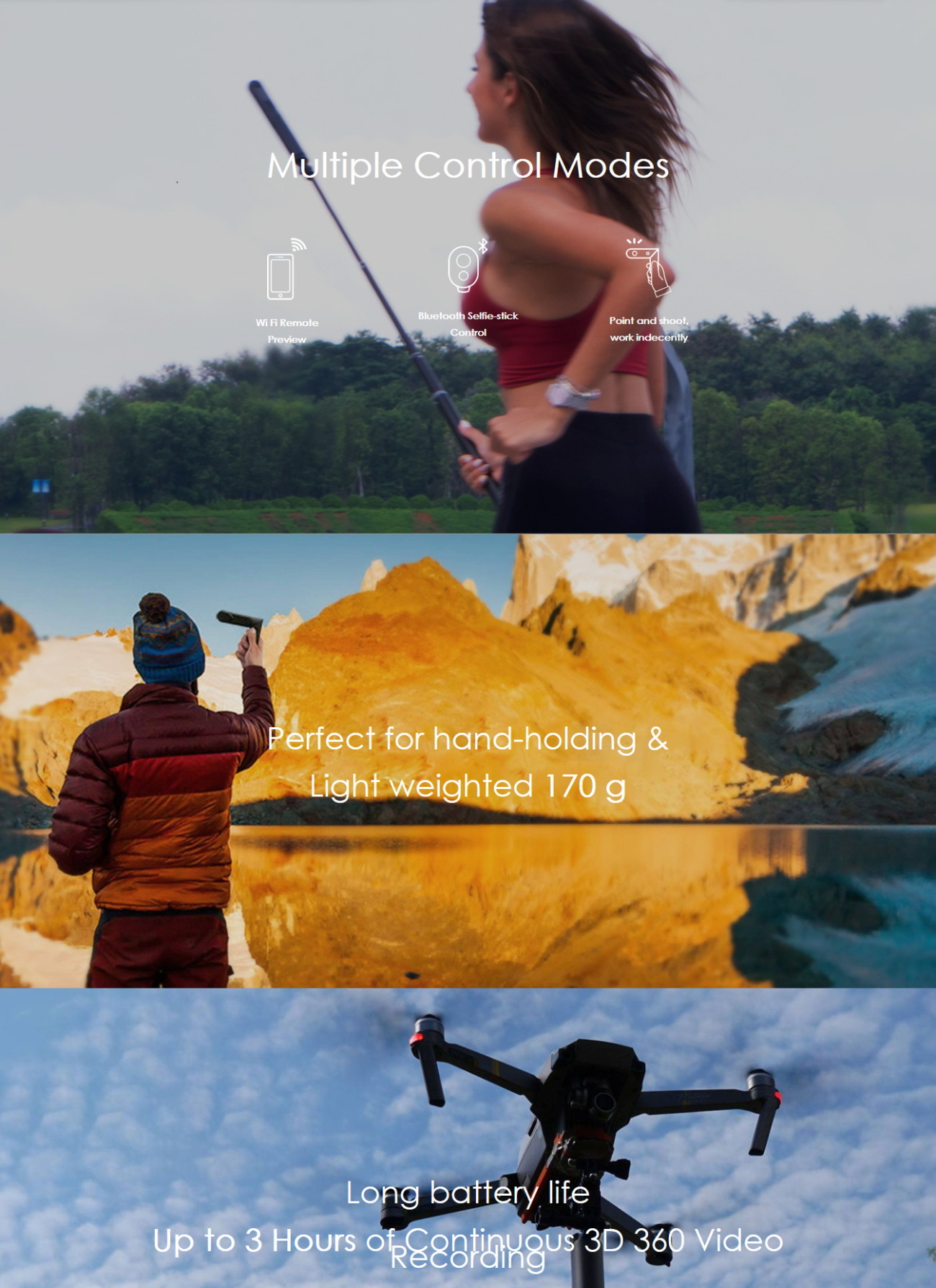 Optional Accessories
QooCam 360 & stereo cameras products can simply be mounted on anywhere with most sports cameras accessories. Mounting the stereoscopic 360 camera on a drone, bike, or selfie stick.
With a selfie stick, you can not only hide the finger from the scene but also record 360 degree hyper lapse 4K footage by moving the camera.
If the customer buy QooCam, the package also includes a protective cover/holder, velvet bag, user guide, warranty card, USB Type-A (Male) to Micro-USB Cable, USB Type A (Female) to Micro-USB Cable (OTG) and USB Type A (Female) to USB Type C Cable (OTG).
Specifications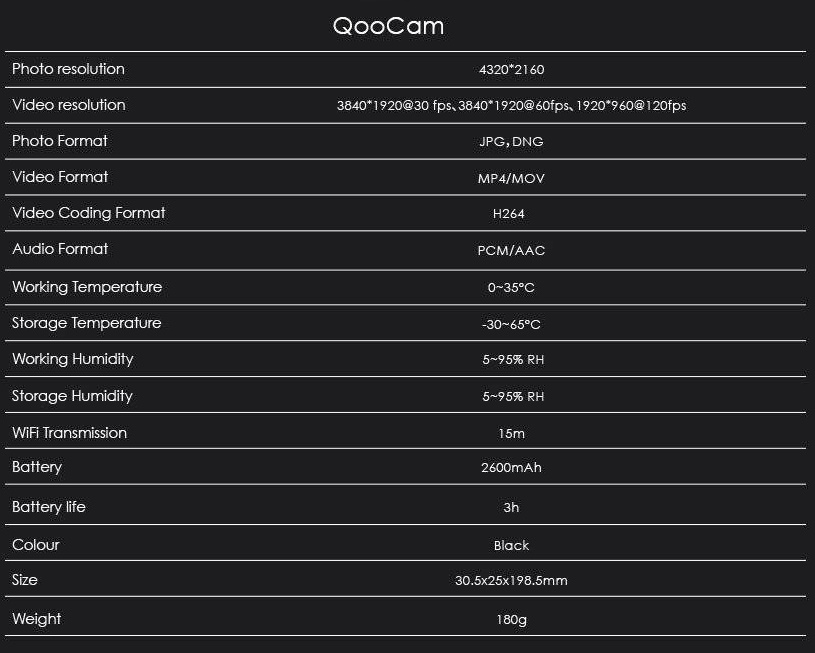 What's in the Box

Product Video
Freebies & Voucher
Free Credits to shop for next purchase: Free credits worth 3% of your total purchase amounts for purchase with RM100 and above in a single order.
Subscribe Now to our newsletter and get your voucher code for 3% discounts off your total order.
Warranty
All products come with 1 year limited warranty except those specified below :

Most of Ledlenser products come with worldwide warranty period of 2 years from the date of purchase and 7 years if you register your product online through the warranty card that comes in the packaging.
Vibram and Skinners shoes come with 3 months warranty.
Summer school bags, Sipesen backpacks, Nike bags, and Polo House luggage has no warranty.

Warranty are against manufacturing defects only, it does not include wears and tears, and or damages caused by misuse.

For more information on warranty, please view

our warranty policy

.
Return & Exchange
All items can be returned or exchanged within 5 days upon receipt of your goods if they have not been worn, altered or washed. All items must be returned in their original condition with all tags attached, and must be returned in their original packaging. Please click our return and exchange policy for more details.
Shipping
Free Delivery within Malaysia for any order with RM80 and above. (Delivery to Sabah, Sarawak, and Labuan is via POS Malaysia, 1 to 2 weeks delivery time)
We currently provide deliveries to Malaysia, Singapore, Hong Kong, and China Only.
For any other international delivery, please email us at sales@gotravel-outdoor.com for arrangement.
Please click on shipping and delivery for more information.