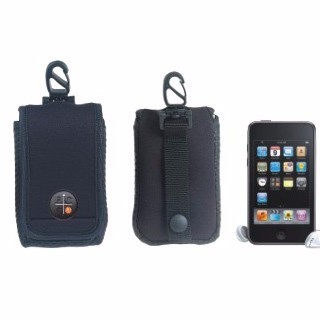 EC GO Neoprene Pouch - Large
Product Description
ECGO Neoprene Pouch - Large protects your compact digital device with Shock Absorbing Neoprene Rubber.
It comes with one velcro flapped compartment.
It can be used as a shoulder pouch sling pouch, or belt pouch.
It is made of non-toxic materials and are environmentally friendly. Fabric and materials are AZO-Free and CADMIUM-Free. Zippers are NICKLE-Free.
Fabrics are carefully selected and given a water-repellant treatment. Neither water nor stain can penetrate the fibers of the outside fabrics. This keeps the product new and durable.
The zippers are high-Quality YKK zippers with buckle hardware. Inside seams are protected by web binding to avoid broken seams. Stressed areas are reinforced with heavy duty BARTACK stitchings (1 BARTACK = 36 stitchings) to enhance durability.
Specifications
Dimensions (W x H x D): 11 x 7 x 2 cm
Material : Shock Absorbing Neoprene Rubber
Color : Black
P/N: EP-0041
Freebies and Voucher

Warranty Information
Return and Exchange Policy
Shipping Information