Product Description
It's easy to run daily, but how far should I run? How fast?
Recovery makes me stronger, how long should I rest between two runs?
How can I measure my overall fitness level improvement?
APEX with COROS Trainer has them all for you. The concept was to allow you to train harder, safer and much more efficiently every day and to be ready for the complex outdoor world. COROS brings the luxury of a personal coach, directly into your premium watch that sits on your wrist.
Your Complete Training Guide
Based on a unique algorithm with lactate threshold, the COROS Trainer dials-in your running training every day. It will be split-up into three different stages: Warm Up, Training, and Cool Down. The COROS Trainer will then provide the duration and target heart rate throughout each stage. This is available for both Aerobic and Anaerobic Training modes.
Built in Premium

Being able to transition from the workplace, into your training element is made much easier with the quality build and design. Coros created the APEX with a titanium alloy or ceramic bezel finish, depend on the model you pick, complete with a sapphire glass for extreme protection.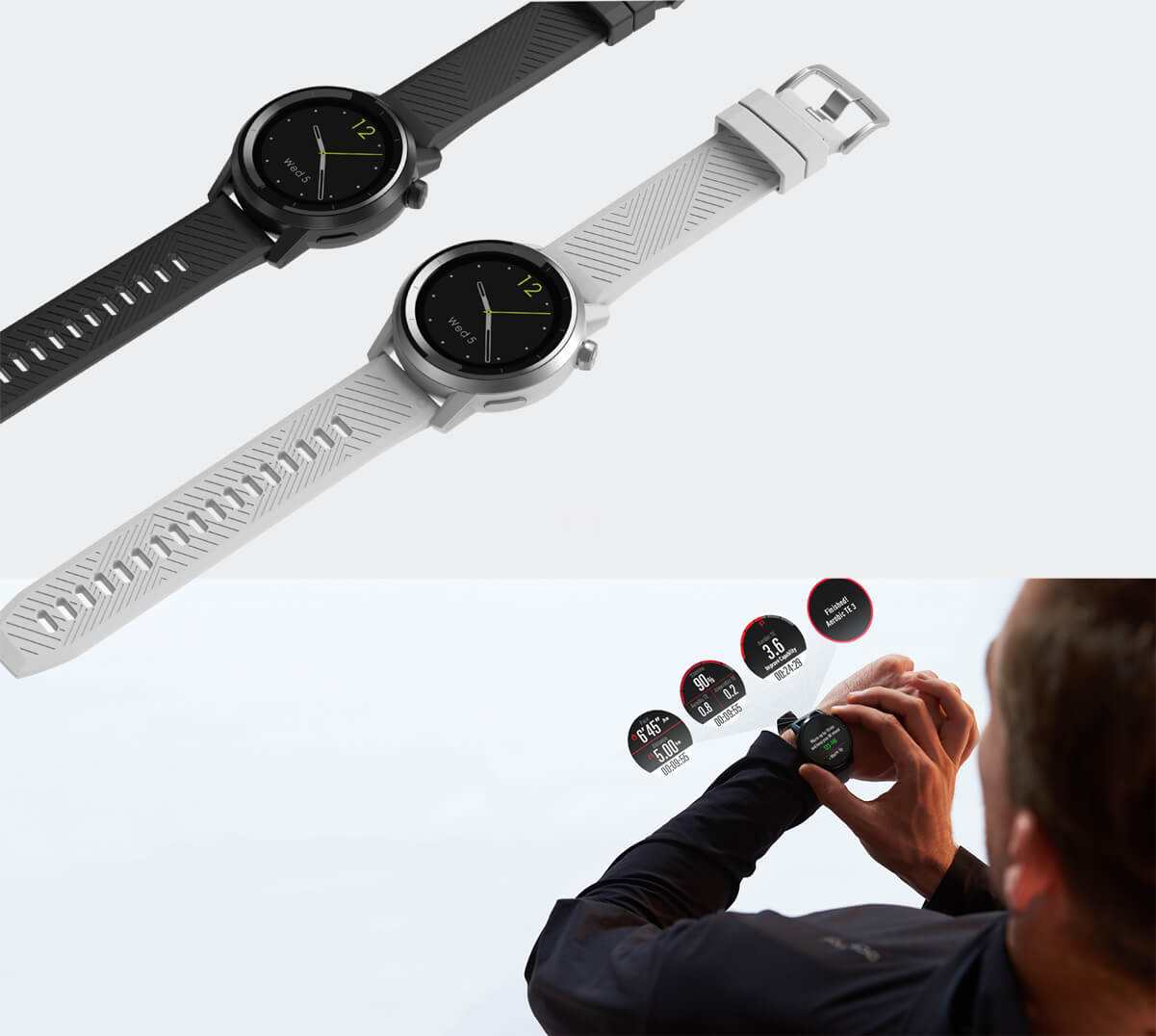 Training Efficiency Without Injury

To prevent injury, there's nothing more crucial than training correctly. Coros are able to accurately determine your overall effort, broken down into stamina level (0-100) and training effect (0-6). Exerted way too much stamina? COROS Trainer will notify you it's time to rest up. Based on the effort level and training history, you will then be able to see an advised recovery window before you begin your next activity. This is available for Interval, Aerobic, and Anaerobic Training modes.
Simplicity at its Finest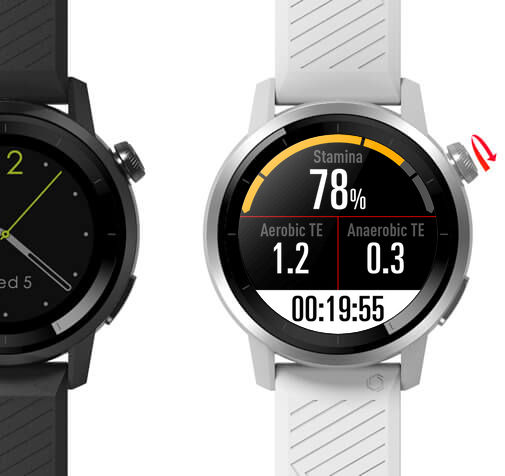 Using buttons to change screens can be overwhelming at times, especially in the middle of a workout. With the digital knob, you can easily navigate through the APEX inside and out with a single turn of the knob by using only a single finger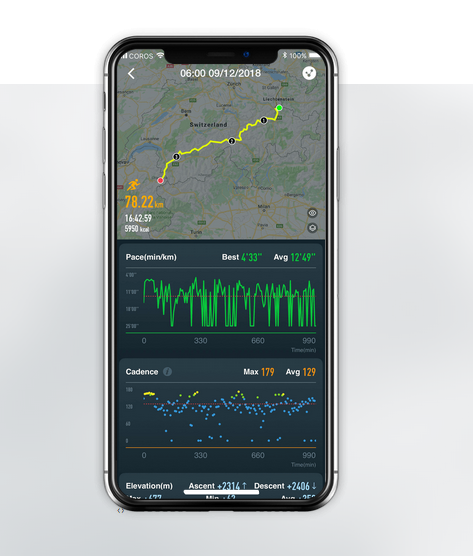 Advanced Training Analysis

Once you've finished your workout, the best part begins. Our COROS App will give you a complete graphical analysis of your training – including: VO2 max, recovery advisor, threshold pace, last-7 days training load, personal fitness index and plenty more.
Additionally, you can connect to your favorite 3rd party applications such as STRAVA and TrainingPeaks and automatically upload your workouts.
Navigation Track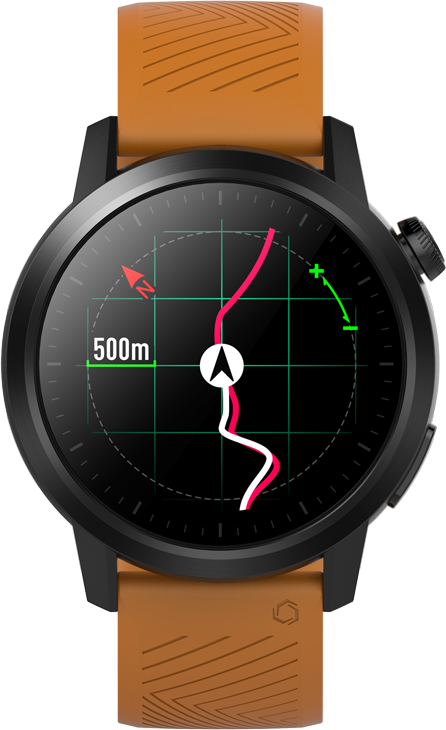 Equipped with track and navigation features, APEX can be your best tool when you need directions the most.
Routes are uploaded and displayed on grid as a bread crumb trail with real time information on heading and elevation and alerts to help you get back on course.
Smart Learning Stryd Length

Introducing COROS' very own, Intelligent Stride Algorithm. This unique algorithm embodies machine learning at its core to record your personal range of motion while running. This will build your very own stride model that will be used for indoor running or areas of weak GPS signal (such as tunnels).

Ultra-Durable Battery Life

Make constantly charging your watch a thing of the past. With APEX, you will have a watch that is built to last above and beyond your workout. In UltraMax setting, the battery is carefully engineered to last up to 100 hours using GPS. While using normal mode will yield up to 35 hours, and regular usage up to 30 days.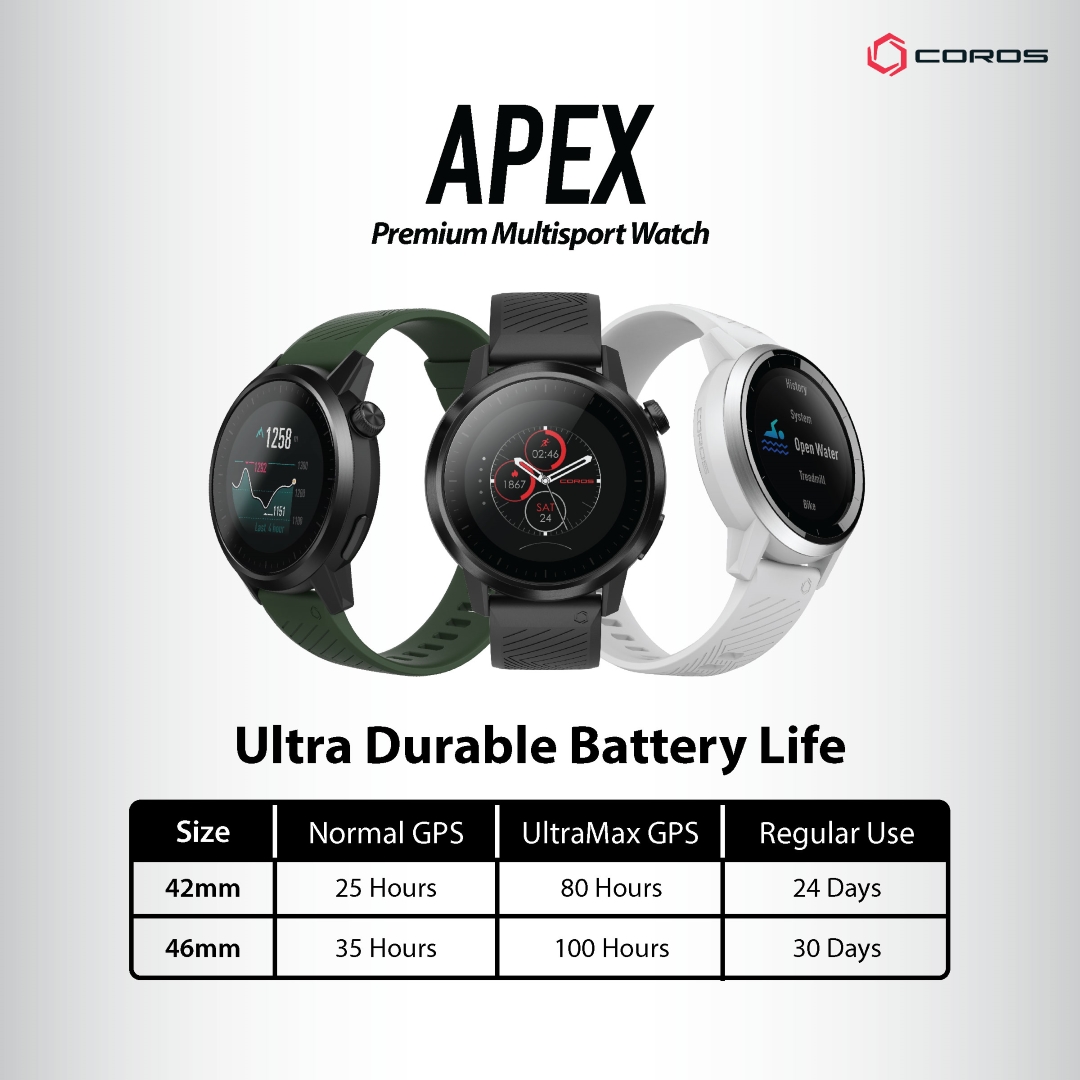 Features
Titanium alloy bezel finish with sapphire glass for APEX 46mm
Ceramic bezel finish with sapphire glass for APEX 42mm
COROS Trainer for advanced training and analysis
Intelligent Stride model that learns your running form
Wrist-based heart rate monitor
UltraMax setting
Digital knob
Built-in barometer, altimeter, and compass
Pre-load breadcrumb trail maps
GPS and GLONASS satellite connections
ANT+ and BLE connections
Interval, aerobic, and anaerobic training
Fully customizable home screen
Ultra comfortable silicone bands
2-years international warranty
Specifications


APEX 46mm Premium Multisport Watch
APEX 42mm Premium Multisport Watch
Display Size
1.2 in. 240 x 240 (64 colors)
1.1 in. 218 x 218 (64 colors)
Display Type
Memory LCD
Memory LCD
Screen Material
Sapphire Glass
Sapphire Glass
Bezel Material
Titanium Alloy
Ceramic
Strap Material
Silicone
Silicone
Quick Release Bands
22mm
20mm
Physical Size
48.50 x 48.50 x 13.75 mm
45.00 x 45.00 x 14.45 mm
Weight
55.3 g
50.8 g
Wireless Connection
BT4.2 BLE for smartphone only, ANT+ for accessories
BT4.2 BLE for smartphone only, ANT+ for accessories
Navigation
GPS, GLONASS, BDS
GPS, GLONASS, BDS
Sensors
Optical Heart Rate Monitor
Optical Heart Rate Monitor
Barometric Altimeter
Barometric Altimeterr
Accelerometer
Accelerometer
Gyroscope
Gyroscope
Compass
Compass
Water Resistance
10ATM (100 Meters/328 Feet)
10ATM (100 Meters/328 Feet)
Working Temperature
14°F to 131°F (-10°C to 55°C)
14°F to 131°F (-10°C to 55°C)
Storage Temperature
'-4°F to 149°F (-20°C to 65°C)
'-4°F to 149°F (-20°C to 65°C)
Charging Time
Less than 2 Hours
Less than 2 Hours
Battery Life (46mm/42mm)
Up to 100 Hours in UltraMax GPS Mode
Up to 80 Hours in UltraMax GPS Mode
Up to 35 Hours in Full GPS Mode
Up to 25 Hours in Full GPS Mode
Up to 30 Days for Regular Use
Up to 24 Days for Regular Use
Heart Rate Features
Continuous heart rate
✔
✔

HR zones
✔

✔

HR alerts
✔

✔
HR calories
✔

✔

Recovery time
✔

✔

Records heart rate while swimming
✔

✔

HR broadcast
✔

✔

Resting heart rate
✔

✔

Lactate threshold heart rate
✔

✔

Workout Features
Alarm
✔

✔

Timer
✔

✔

Stopwatch
✔

✔

Metronome
✔

✔

VO2 max estimate
✔

✔

Stride Length
✔

✔

Cadence
✔

✔

Recovery advisor
✔

✔

Aerobic training effect
✔

✔

Anaerobic training effect
✔

✔

Training load
✔

✔

Lactate threshold
✔

✔

Threshold pace
✔

✔

Stamina level
✔

✔

Auto pause
✔

✔

Auto lap
✔

✔

Auto scroll
✔

✔

Workout alerts
✔

✔

Interval training
✔

✔

Triathlon mode
✔

✔

Customizable activity profile
✔

✔

Customizable data screen
✔

✔

Watch face option
✔

✔

Open water swim metrics
✔

✔

Pool swim metrics
✔

✔

Stroke type recognition
✔

✔

SWOLF
✔

✔

Navigation Features
Pre-load route
✔

✔

Route navigation
✔

✔

Off-route alert
✔

✔

Elevation profile
✔

✔

Distance to destination
✔

✔

Activity Tracking Features
Step counter
✔

✔

Floors climbed
✔

✔

Sleep monitoring
✔

✔

Active energy
✔

✔

Exercise time
✔

✔

Compatibility
ANT+ for accessories
✔

✔

Strava
✔

✔

TrainingPeaks
✔

✔

Direct file export
✔

✔

Overlay data graph
✔

✔

Smart Phone Notification
✔

✔

Product Videos
Freebies & Voucher
Free Credits to shop for next purchase: Free credits worth 3% of your total purchase amounts for purchase with RM100 and above in a single order.
Subscribe Now to our newsletter and get your voucher code for 3% discounts off your total order.
Warranty
All products come with 1 year limited warranty except those specified below:

Vibram and Skinners shoes come with 3 months warranty.
Summer school bags, Sipesen backpacks, Nike bags, and Polo House luggage has no warranty.

Warranty are against manufacturing defects only, it does not include wears and tears, and or damages caused by misuse.

For more information on warranty, please view

our warranty policy

.
Return & Exchange
All items can be returned or exchanged within 5 days upon receipt of your goods if they have not been worn, altered or washed. All items must be returned in their original condition with all tags attached, and must be returned in their original packaging. Please click our return and exchange policy for more details.
Shipping
Free Delivery within Malaysia for any order with RM80 and above. (Delivery to Sabah, Sarawak, and Labuan is via POS Malaysia, 1 to 2 weeks delivery time)
We currently provide deliveries to Malaysia, Singapore, Hong Kong, and China Only.
For any other international delivery, please email us at sales@gotravel-outdoor.com for arrangement.
Please click on shipping and delivery for more information.