Aubergine Pillow is an inflatable pillow for your daily life not just for travel. The Aubergine Pillow affords you the everyday comfort you hunger for, on demand.
SINGLE PUFF INFLATION
Nobody wants to run short of breath. By employing the Bernoulli effect, it allows the inflatable pillow to inflate in just a single breath.
MAXIMUM HUG-ABILITY
Sensual contours and a well-placed dimple stabilizes your head, supports your neck and restores your spine's natural curvature.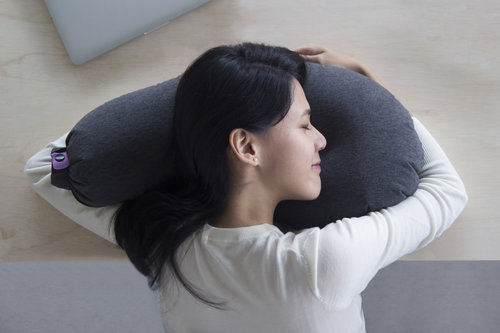 BRING IT EVERYWHERE
Nobody should be weighed down by a pillow. The sleeping pill deflates fast, rolls snug and compacts small.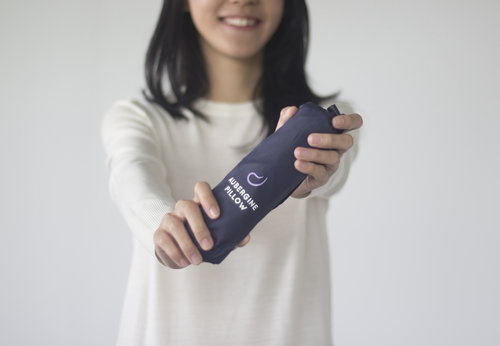 SPECIFICATIONS
Inflated: 383 mm (w) x 140 mm (d) x 725 mm (h)
Packed: 200 mm (h) x 32.5 mm (r)
Weight: 150g
TUTORIAL VIDEO
ABOUT THE DESIGNERS
Studio Aubergine is a collaborative effort of passionate industrial designers from sunny Singapore. With a lighthearted outlook to life, they take delight in constructing solutions for a comfy-er, fun-er and happier life. And we crave sleep, just like you do. It thus seemed like a natural progression for them to tackle this issue of obtaining comfort on demand, while of course, addressing the stuff that people don't like to talk about, like drooling.
The Aubergine Pillow was successfully funded on 1st December 2016, reaching 450% of its original funding goal. It has been featured on DesignTaxi, Core77, AsiaOne and various media outlets. In addition, it has been exhibited at Singapore Design Week Future/Now 2017 and NUS Division of Industrial Design Graduation Show 2017.
Freebies and Voucher

Warranty Information
Return and Exchange Policy
Shipping Information